Event Page
Event Info
Introducing Clipper's Ambassador Program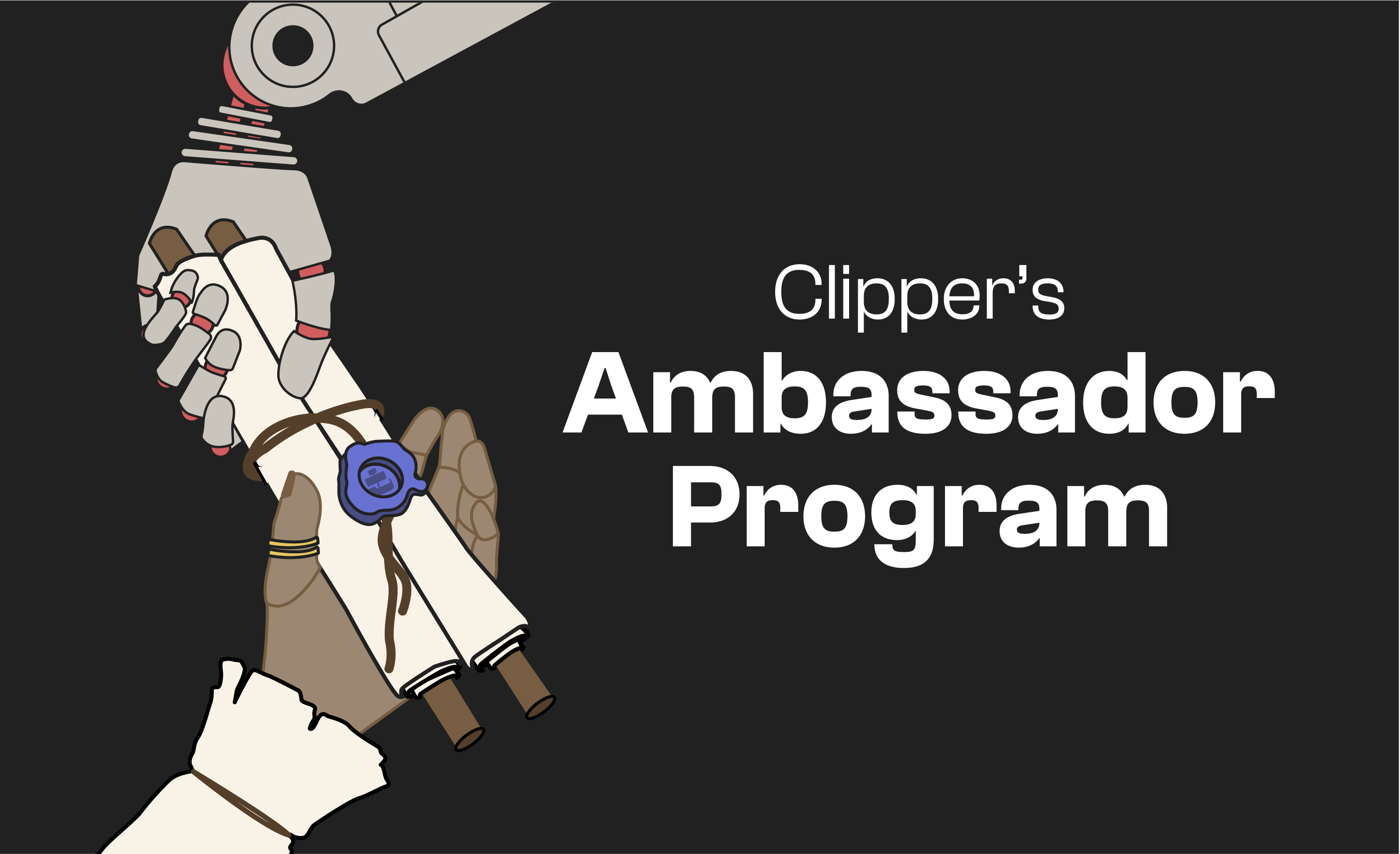 Once upon a time in a galactic ocean far, far away adventurers dared to explore worlds at the frontiers of civilization in search of true freedom. These adventurers created a new community based on a new decentralized economy.All trade was conducted peer-to-peer, and all adventurers called themselves Pirates. Each pirate lived and abided by the Pirate Code.
Every pirate has a vote in affairs of the moment; through democratic and equal voting
A pirate can be made to walk the plank if they pull the rug on a fellow crew member
A pirate shall always keep their wallets secure, code phrase hidden, and tweets ready for service.
The best pirates sailed on Clippers, small ships allowing them to be nimble and swift while darting between bloated trade ships in search for treasures. Clippers minted more legendary pirates than any other ships. Clippers were guided by a seasoned AI named F1RST M8. F1RST M8 operated Clippers with such skill that pirates retired quickly. Over the years it saw many crew members come and go, leaving wealthier than they arrived. F1RST M8's wisdom and experience made Clippers the finest ships for trading small fortunes in the galactic oceans. The search for new Captains F1RST M8 is just a robot. While wise with tales of seafaring and trading, it needs Captains to rally the crew on each ship. F1RST M8 works the deck to this day, and is searching for new Captains to lead the fleet in search of treasure. What makes for a good Clipper Captain?
Always put the needs of the crew above themselves
Leads by example and earns the respect of pirates
Pioneers better standards
Doesn't abandon ship in stormy seas
What treasures await you?
Access to a private communication channel with the leadership team
Opportunity to network with other individuals in the space
Career mentorship by engineering and business talent
Exclusive invitations to development testing and events
Early news and information about Clipper
Appreciation gifts
For the gunners who don't have the time to lead a crew, there will be other opportunities to claim your bounty.. Oh Captain! My Captain! Our fearful trip has just begun. Are you dedicated enough to lead? If so, come aboard https://forms.gle/9fqo3etPfnasXWkeA. We've relaunched the Ambassador program. Please reapply if you've applied before.